Choose the right sized barcode label
SageData is based in Ottawa, Ontario, Canada
The Short Answer
Keep labels as small as possible. Put the absolute minimum information on the label. Most applications can be satisfied with a label an inch or two wide (30 - 60mm), and half as high.
Why not put everything on the label?
Depends on the application, but in most cases it is better to put information in a database, and access it with a handheld computer. The data is then secure. It is effectively unlimited. Access can be granted to anybody. This works for asset management, inspections, and maintenance applications.
Often clients want to add other information to the label, but this has wider implications, the most significant being that pre-printed labels cannot be used, and demand printing becomes essential. Demand printing brings the complexity of local printers, maintenance, software for printing, maintenance of local stocks and prevention of stock out situations. Sometimes this is an essential requirement, but it can significantly increase the complexity of the system.
As an example of "too much information" one client put departmental identifiers on fixed assets, even though that information was available on the handheld computers used to manage those assets. An unforeseen consequence was that after a subsequent re-organization the asset identifiers on about half of the assets had to be changed to match the new organizational structure. So our advice as always, is "only essential information on the label", and in the extreme case this can be just a barcode referencing a database entry.
The smallest label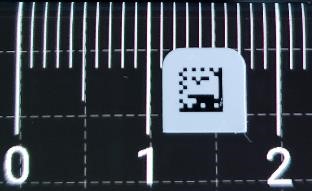 The smallest practical label that we have implemented was a two dimensional label used for tracking dosimeters at a nuclear facility. We were able to uniquely identify one million dosimeters with a label just 4mm square.
The least conspicuous label
One client wanted all items to be tracked, but in a way that was not obvious to the casual bystander. We were able to design a barcode label that was nearly invisible to the naked eye.
The largest label
Large labels are usually provided for long range reader applications, though these are rare. A typical long range label might be printed on stock which is four inches by eight inches. In extreme cases, for labels to be read at thirty or forty feet, we can print barcode labels two or three feet wide.
Conclusion
In the vast majority of cases a standard label will carry all required information and enable the barcode to be easily read. To get a rough idea of the size, it is about two thirds the length of a finger, and about as high as the finger is wide. The label will carry three lines of information. The middle section will be a one dimensional barcode capable of uniquely identifying a million items.
These are broad generalizations, but labels in this range cover probably 90% of the applications we have handled over the past twenty years. Your requirement may be one of the exceptions. We would be happy to help.
If you found this useful, you might also want to review:

- barcode scanners, readers and printers

- pre-printed barcode labels

- premium asset tags (micro barcode labels)

- custom barcode labels printing - a brief video

QAOK3168-3