RF Handheld computers, pros and cons

Definition
Handheld computers can operate standalone or as part of a wider, live network.  There are advantages and disadvantages for each approach.
br> If the handheld units are configured for permanent connection, then they can operate as remote screens and keyboard linked to the central server. Many advantages to this, but there are risks when secure information is being transmitted, and there are reliability issues, just because there are more elements to the system, more things that can wrong. These systems also sometimes suffer from "black spots". As with a mobile phone, there are some locations where the system just doesn't work.

An alternative approach that we often use is to ensure that the mobile element of the system is fully self contained, that it can operate without the need for a live connection. This improves security and reliability, and simplifies the initial installation and ongoing maintenance of the system. For further information contact SageData. The following is information on dedicated machines intended for warehouse type applications.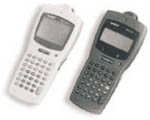 RF handheld computers are designed to provide real time database updating using a wireless access point, which link the handheld computers to a Local Area Network (LAN) via an access point antenna.
The handheld computers have been designed to withstand harsh environments. There light weight, user-friendly design, and optimum battery life will enhance your data collection process.

Please click on image for PDF datasheet
Please click on image for PDF datasheet
Radio Frequency (RF) Handheld Computers
  "
Batch Handheld
  "
RF Handheld
  "
Bar Code Readers
  "
Bar Code Printers
SageData is based in Ottawa, Ontario, Canada.
We design, supply and support systems for asset management, warehouse management, inspections, and traceability.

The technologies we use include barcodes, RFID, NFC, BLE, and handheld computers.

We provide consulting services, and standard or bespoke systems designed to your requirements.

For further information, or for advice and assistance with your application, contact Doreen Garvin or Frances Minhas

Click here to reach SageData by email.

To reach us by phone:
from outside Ottawa, dial 1-888-838-1067
from Ottawa, dial 613 225 4404

© SageData. All rights reserved.    
Thank you for your interest in our products and services.