Electronic Forms Software for BassetPro Reporting
SageData is based in Ottawa, Ontario, Canada
Description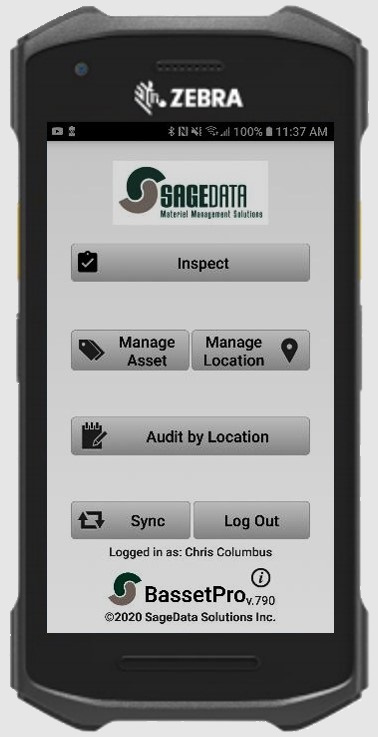 This is the element of the Electronic Forms BassetPro Asset Management System that looks after reporting and data storage. It also provides the tools to set up and manage manufacturers, identify locations or equipments to be managed, and identify specific steps to be taken during an audit.
Does it work alone?
A BassetPro Asset Management System will be licensed to use a single copy of the Reporting Element and a copy of the Mobile Element for each mobile device. To put it another way, one copy of the reporting element, and one copy of the mobile element for each auditor.
What does it do
It covers many functions, but the primary activities are reporting, data management, and route set up.
Reporting
The Reporting Element provides rich reporting capability.  Report by daily audit. Listing by manufacturer or model number. Report of missing items. Report of unauthorized moves. Report over time for an individual auditor, or an individual location.
Data Management
This covers set up and operation of the synchronize process that moves new data from the handheld unit to the central server, and back to the handheld unit when data has been merged with new data from other inspections.  It also covers storage and back up arrangements for the data.
Set up
Asset Management is essentially about people, places and things. Who is responsible for each item. Where are items located. What assets are we managing. The set up module lets the system administrator set up people, places and things ahead of time, though in some cases this information can be captured or edited live as an audit is being conducted.
Conclusion
This is the critical heart of the system. Used to define what is going to be audited and how it is to be checked, it also stores the collected data, and helps in analyzing that date to detect trends and patterns of non-compliance.
For more information consider browsing the following links:

- BassetPro applications

- municipal housing management

- introduction to asset management

- occupational health and safety inspection


QAOK3139-10