Windows CE Handheld Upgrade to Android Mobile Computer
SageData is based in Ottawa, Ontario, Canada
Not many people would remember Windows-based mobile phones. Microsoft entered the smartphone market late, resulting in a very low market share. The company pulled the plug after a couple years due to lack of success. Shortly after Windows-based smartphones disappeared from the stores leaving Android and iOS as dominant mobile operating systems.
There is one notable exception, however - the handheld computers (mobile computers) and other specific-purpose devices (for example, medical field devices). These all used the Windows CE operating system.
We will focus on mobile computers that are still widely used in the physical asset management business. For example, many of our clients are using Workabout Pro and Omnii devices for a variety of applications: hardware tracking, equipment safety inspection, warehouse management, asset management, inventory count and audit, document and archive management, chemical and weapons management, etc.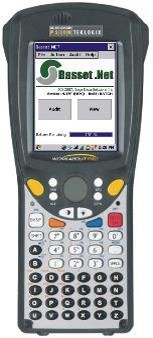 All models of Workabout Pro and Omnii devices were discontinued some time ago. Also, Microsoft has ended support for Windows CE handhelds. Yet, these devices are still being used by many businesses.
So, what are the factors contributing to longevity of these devices? Here are a few good reasons for this:
- Businesses use these devices frequently. Users are familiar with the design and are comfortable operating them
- These devices are part of the system (application, database, etc.) - as long as the system works, businesses are not keen on looking for replacements
- Rugged design ensures the longevity of these mobile computers
- Lack of OS updates and security patches is not perceived as critical due to the fact that these devices are usually locked to a specific application only
With all the advantages, Windows-based mobile computers are still aging and, inevitably, will need to be replaced. They endure falls, harsh environments; their batteries deplete faster and need to be charged longer, etc.
What happens if such a device gets damaged? If you are our client, we will try repairing it.
However, it has become increasingly difficult or even impossible to repair these devices due to a scarcity of spare parts.
Another question frequently asked by our clients - what to do if I need an additional mobile computer?
Fortunately, we are able to help - SageData Solutions have developed a software module that enables the same functionality on Android-based mobile computers.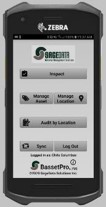 We offer our clients a choice between a new system based on Android mobile computers or an upgrade that allows using a mixture of new Android-based and their existing devices. We have performed such upgrades to several major systems. Users are quick to adapt to new mobile computers. For most clients the upgrade process is fast and runs smoothly. For those using a customized version of the mobile element of BassetPro, there may be some delay, as any custom add-on feature will need to be re-written for the android OS.
Please let us know if you would like to receive a proposal for moving to Android-based mobile units. We would be happy to discuss your business needs and apply our experience to get you going.
For further information browse the following pages:

- Mobile data collectors

- How do I choose a barcode reader?

- BassetPro applications

- BassetPro mobile
QAOK3139-6