Bluetooth Low Energy (BLE) for managing assets and inventory
and the enabling technologies: barcodes, RFID, BLE, mobile computing



In some ways, BLE beacons are still seen as a novel technology, but SageData Ottawa's lab and field investigations make us believe that BLE is ready for the heavy-duty commercial field of asset and inventory management.
Alongside RFID implementations, we are now able to deliver BLE solutions for asset management in environments where long read range, lack of sight-line, and requirement for a variety of sensors are major factors. Specific applications can include areas such as EMS or police kit tracking, construction site tool or materials locating, safety management, lab supplies supervision, always-on monitoring of valuable equipment (with alerts if anything goes missing). In fact, the more we have considered BLE applications, the more appears possible for mission-critical applications in both private and public sector.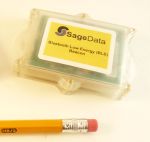 There are still factors to weigh, and even as we have integrated BLE with our core BassetPro Asset Management software, we continue to push the boundaries of possibilities with this technology - and we will publish further results in this area of our Web site. So stay tuned!
Why BLE? The great news is that there need be no extra investment in tag reading hardware. Any Bluetooth-enabled smartphone, tablet or computer (with the appropriate BassetPro software) does the job. With a read range of a hundred feet or more, BLE has the potential to displace Active RFID as the long-distance solution for tracking. And, of course, unlike fixed Active RFID readers, BLE readers do not require an infrastructure of cables and power. Always-on applications can be as simple as walking around with your smartphone running the appropriate software.
But there is so much more. Consider the power of using the smartphone GPS in conjunction with the BLE devices, or having on board sensors for temperature, light, movement and so on, or having the device inform you of its presence with a flashing light or audible alarm. All of this is there now. And beyond this, there are ways that a BLE infrastructure can revolutionize asset management in ways similar to the revolution that has occurred in the consumer field (think of bluetooth-enabled wearables, for instance).
SageData Solutions is committed to devoting an above-average portion of revenues to research and development. We have been on the cutting edge of mobile computing since the first business handheld computer emerged over 20 years ago.
We would be happy to provide you with more details.
If you found this useful, you might also want to review:
-
an introduction to barcode technology
-
an introduction to RFID
-
mobile data collectors
-
consulting services: barcodes and their applications

SageData is based in Ottawa, Ontario, Canada.

We design, supply and support systems built around RFID, Barcodes and Handheld computers.

For further information, or for advice and assistance with your application, contact Doreen Garvin or Trinity Joseph.

Click here to reach SageData by email.

To reach us by phone:
from outside Ottawa, dial 1-888-838-1067
from Ottawa, dial 613-225-4404