Barcode labels: How to use color for barcode and background
SageData is based in Ottawa, Ontario, Canada
Introduction
Barcodes are intended to be printed as black stripes on a white background. Any other combination is operating outside the specification, and the success of a scan is down to luck. We recommend that if color is required for identification, it be applied as a strip above or below the barcode. For example, below is a barcode label used by one of our Canadian Government clients.

This page explores possibilities of using the barcode labels with options other than white backgrounds, of which the most extreme case is a barcode label with a transparent background.
Throughout many years, we have supported our clients with their specific label requirements...and produced a number of different out of spec solutions, such as:
- Barcode with transparent background
- Barcode with other than white color background
- Barcode with black background and white stripes

We will describe each of these cases below.
Barcode with transparent background
What to do in a situation when a department aims to keep track of brand new glass top desks using a barcode-based asset management system? The classic white-background barcode label is too noticeable (it was found unacceptable by departmental management). The client approached us with a request to provide barcode labels with a transparent background.These labels are hardly noticeable on the glass desks with no detriment to the aesthetics. However, there was a problem - a barcode reader could not read them either.
The solution was to slide a piece of paper under the glass to boost contrast while reading the label. As you may notice (example below) there is not much to see 😉. This is a transparent barcode on top of a white piece of paper.

In conclusion, a transparent background barcode label is doable if consideration is given to the color of the surface that it is going to be affixed to. There must be enough contrast between the barcode stripes and the background to make it readable. We would be happy to advise if you are considering using transparent barcode labels.
Barcode with other color background
A number of our clients requested help with barcode labels with different color backgrounds. For some clients, it was necessary because they had specific requirements to match an asset color. Other clients wanted to use colors as identification of certain classes of physical assets. We experimented with multiple background colors. Below are some real-life samples (company ID removed) of gray, yellow and olive drab backgrounds.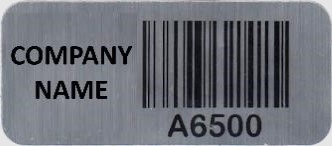 It is a good idea to check barcode labels with non-white background with a client's barcode scanner / reader before applying them to assets. The sensitivity of the scanners is very high, but it is different from manufacturer to manufacturer. We have seen that some scanners fail to read barcodes with some non-white backgrounds while others read without any issues.
Give us a call if you are considering using barcode labels with a non-white background.
Barcode with black background and white stripes
Some clients require black barcode labels. We have done this on a number of occasions, so it is possible to produce black barcode labels. These labels are a complete opposite of the white barcode labels - they have white stripes to ensure sufficient contrast for the scanner.

However, most barcode scanners would not read black labels by default. A configuration change is required to make the black barcode readable. If you are considering using black barcode labels, reach out to us.
In conclusion
Barcode labels can be transparent, non-white and even black. Careful consideration, in designing such labels, is required to make sure the encoded information is reliably readable.
We would be happy to discuss your business needs and apply our experience to get you going.
For further information browse the following pages:

- introduction to barcode technology

- premium asset tag

- pre-printed barcode labels

- request a quote for barcode labels
QAOK3137-6